In 2022, the Company announced that it has added the Hemberget Property to its package of polymetallic projects in northern Sweden. The 29.4 sq. km property was acquired by staking in order to evaluate potential for intrusion hosted copper-nickel and volcanogenic massive sulphide (VMS) mineralization. Please see accompanying maps.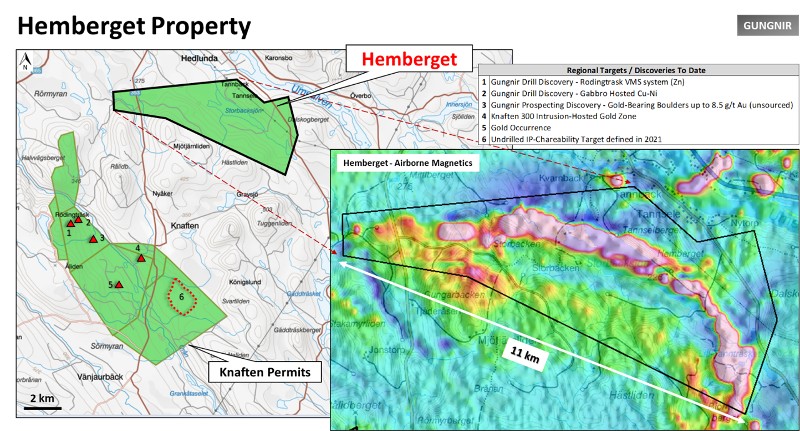 The Hemberget area has been on the Company's radar for a few years now after Gungnir made new copper-nickel and VMS discoveries on its Knaften project, which was previously regarded as a gold-only area. The striking feature on the newly acquired Hemberget permit is an impressive, 11-km long magnetic anomaly which maps out a gabbro-ultramafic intrusion similar to much smaller bodies on the Knaften project that we now know are copper-nickel mineralized. In addition to potential copper-nickel mineralization, the property covers some text-book VMS geology which adds further potential at Hemberget.
Hemberget is located approximately 6 km north of Gungnir's Knaften project in the Vasterbotten region of northern Sweden hosting the prolific Skellefte VMS-gold belt, "Gold Line" and "Nickel Line". Hemberget is situated with the broader Gold Line along with Knaften and the Company's two nickel deposit, Lappvattnet and Rormyrberget which collectively containing 177 million pounds of nickel, are located along the Nickel Line to the east.
The property covers the northern part of the Knaften greenstone belt, covering a thick package of dacite and rhyolite volcanics, including fragmentals, along side mafic pillow lavas, straddling the large magnetic anomaly which corresponds to the "Hemberget" gabbro-ultramafic intrusion.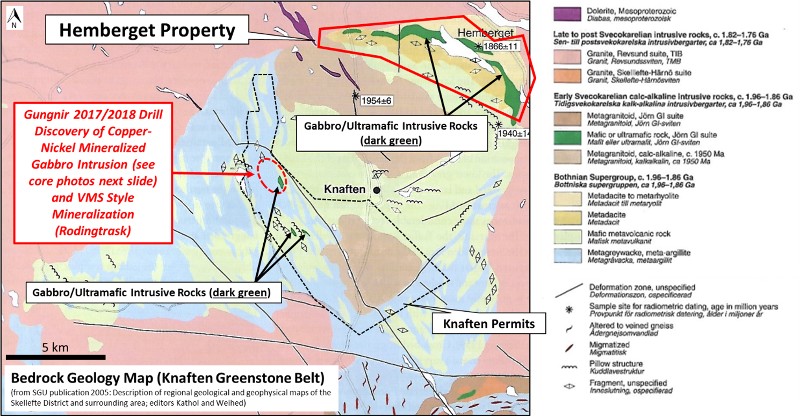 The Company plans detailed compilation work as well as initial prospecting and mapping at Hemberget. Based on information on hand, including the SGU (Swedish Geological Survey) website, the property has seen minimal exploration.