Contents Under Revision (see Corporate Presentation)
The Knaften project covers 37.2 sq. km within a highly under-explored and prospective area ("Gold Line") in the Vasterbotten District of northern Sweden. The region hosts more than 12 million ounces of gold delineated in existing and mined resources plus several producing and past-producing VMS base metal mines.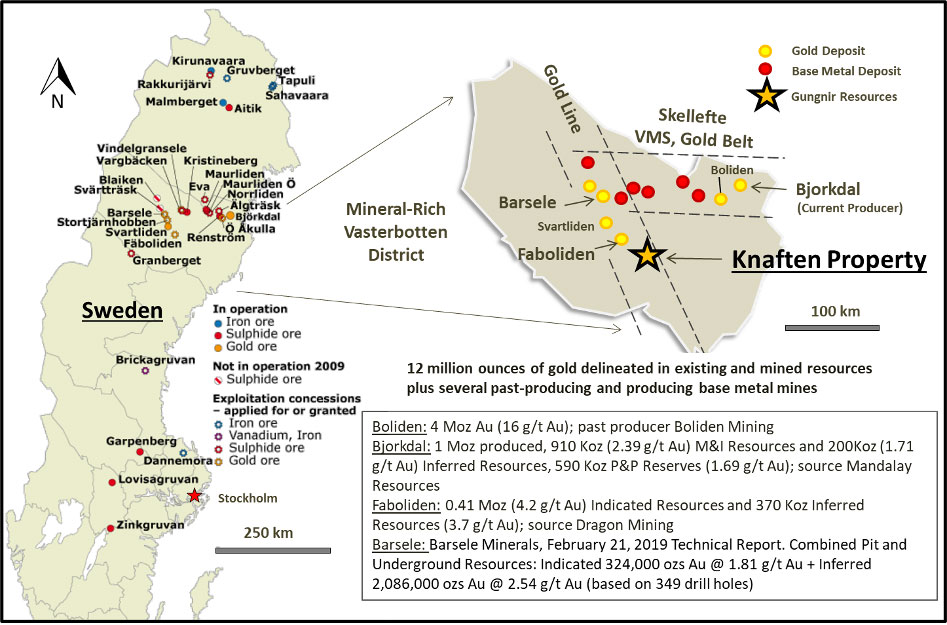 The property covers Au in boulders and outcrop, as well as drill-indicated Au mineralization (Knaften 300 Gold Zone; 50+ drill holes), along a developing 10+ km long geochemical-magnetics trend along the western contact of a granitic intrusion that cores the Knaften greenstone belt. The main source of the large Au-in-till anomaly (one of the largest in Sweden) to the southeast is believed to be located within the Knaften belt. Other gold-in-till anomalies in the Vasterbotten District cover either current and past-producing gold mines or known gold resources. The Knaften belt also offers potential for volcanogenic massive sulphide (VMS) base metals and newly identified Ni-Cu sulphides.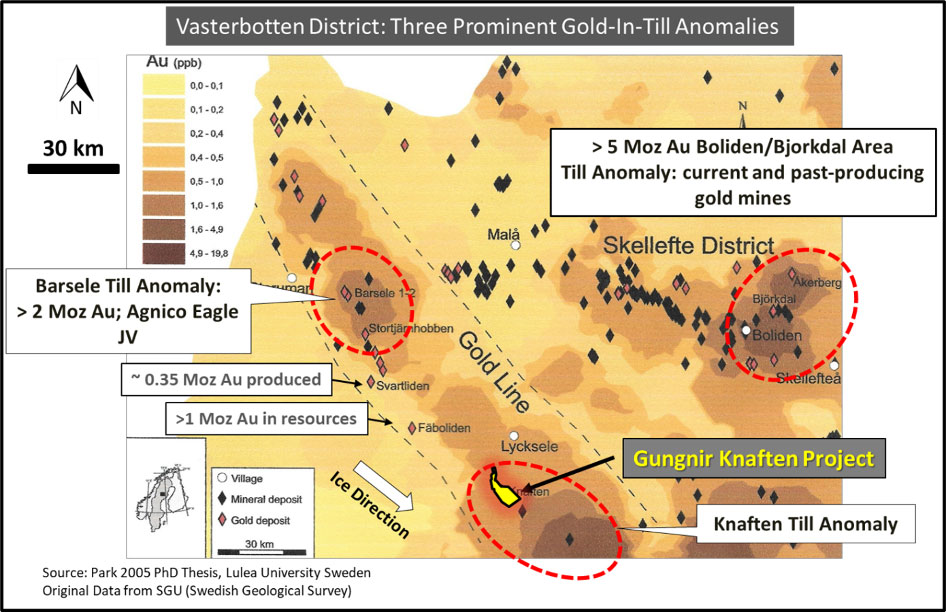 The Knaften property is a prospective intrusion-related gold target with gold mineralization occurring both in the intrusive and adjacent sedimentary and volcanic rocks as disseminated replacement style mineralization (Gungnir's 2014 discovery area, up to 8.52 g/t Au), stock works and veins. Intrusion-related gold systems are an economically important class of gold deposits which are attractive targets as their size can be very large with open pit grades to high-grade gold. With this model and the fact that the property covers up-ice of a very large glacial gold in till anomaly, which has yet to be fully sourced, makes Knaften that much more of an attractive target.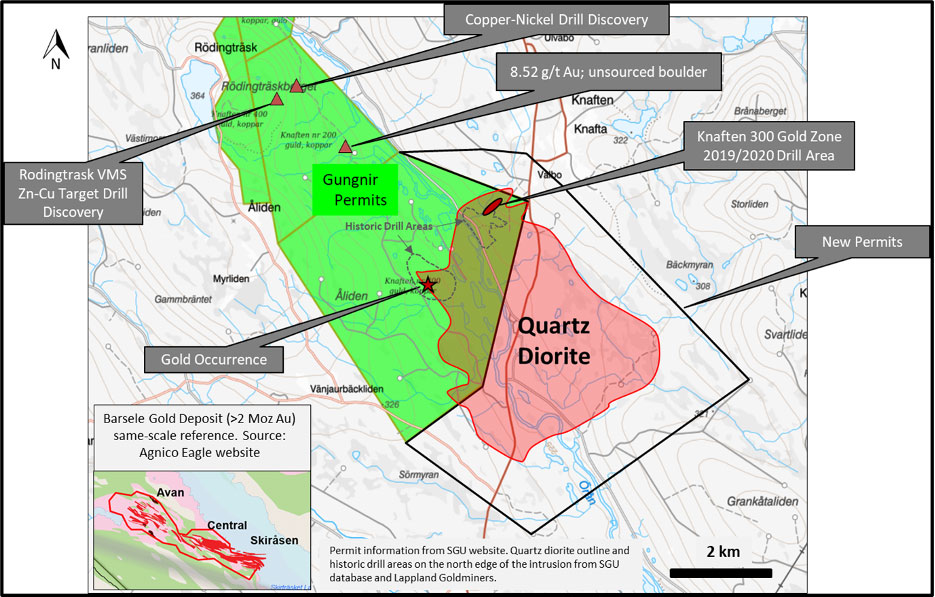 Prior work consisted of drilling over several phases from 1995 to 2008 by Swedish exploration groups including North Atlantic Nickel (NAN) and most recently Lappland Goldminers. Drilling was concentrated mainly in two areas approximately 3 km southeast of Gungnir's new gold prospect area which the Company discovered in 2014. As described by Lappland Goldminers, gold mineralization is found as sparse, visible gold grains hosted in a quartz diorite intrusion with breccias and weak arsenopyrite disseminations, quartz veining with carbonate and sericite alteration. A total of approximately 8,400 metres was drilled in 58 holes, mostly in one area now referred to as the Knaften 300 Gold Zone.
Highlights include:
3.45 g/t Au over 10.75 m (from 67.05 to 77.80 m) in hole 96009
3.20 g/t Au over 10.00 m (from 83.50 to 93.50 m) in hole 200707
3.11 g/t Au over 8.00 m (from 135.80 to 143.80 m) in hole 200714
2.13 g/t Au over 14.45 m (from 55.00 to 69.45m) in hole KNA01001
2.01 g/t Au over 6.70 m (from 190.50 to 197.20 m) in hole 200710
2.89 g/t Au over 5.00 m (from 118.80 to 123.80 m) in hole 200715
True widths of the drill hole intersections reported in the "highlights" above cannot be determined from the information available.
In 2017, Gungnir completed 546 m of NQ2 core drilling in 5 holes. The Company confirmed near-surface gold mineralization at the Knaften 300 Gold Zone (13.7 m of 1.2 g/t Au in its first hole starting at a depth of 59.9m). Several kilometres remain open for expansion and exploration along strike. Drilling also discovered new, highly anomalous copper-nickel sulphides hosted in layered gabbro, some 4.7 km north-west of the Knaften 300 Gold Zone (up to 0.53% combined Cu+Ni in assays and high Cu tenor). Numerous untested, highly conductive geophysical targets are located near-by.
The Company is planning for a larger second phase drill program in 2018.